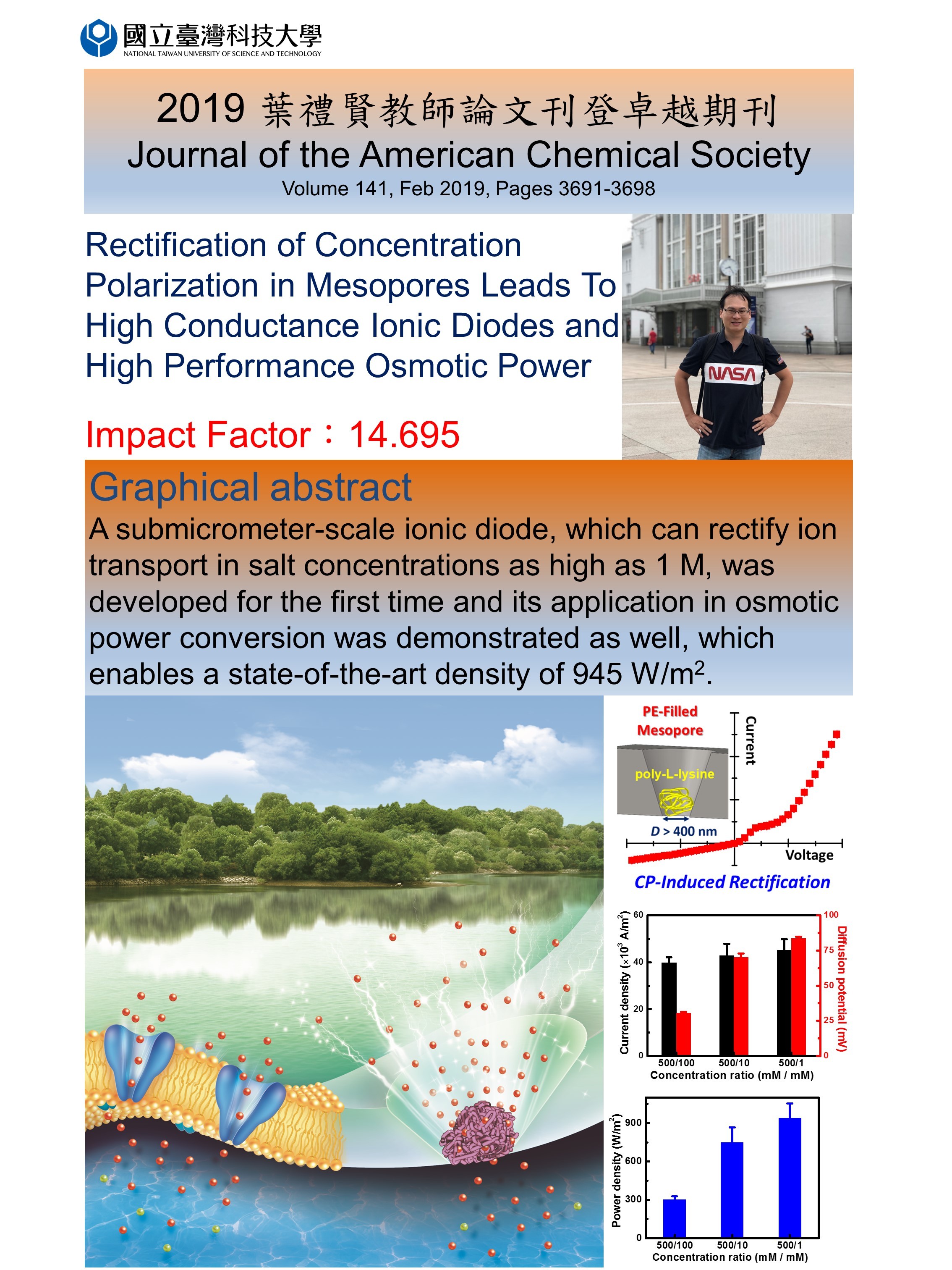 1.
Unraveling the Anomalous Surface-Charge-Dependent Osmotic Power Using a Single Funnel-Shaped Nanochannel
作者: Hsu, Jyh-Ping; Su, Tzu-Chiao; Peng, Po-Hsien; Yeh, Li-Hsien 等.
ACS NANO 卷冊: 13 期: 11 頁數: 13374-13381 出版: NOV 2019
2.
3D Network V2O5 Electrodes in a Gel Electrolyte for High-Voltage Wearable Symmetric Pseudocapacitors
作者: Deng, Ming Jay; Yeh, Li-Hsien; Lin, Yu-Hao; 等.
ACS APPLIED MATERIALS & INTERFACES 卷冊: 11 期: 33 頁數: 29838-29848 出版: AUG 21 2019
3.
Rectification of Concentration Polarization in Mesopores Leads To High Conductance Ionic Diodes and High Performance Osmotic Power
作者: Lin, Chih-Yuan; Combs, Cody; Su, Yen-Shao; Yeh, Li-Hsien 等.
JOURNAL OF THE AMERICAN CHEMICAL SOCIETY 卷冊: 141 期: 8 頁數: 3691-3698 出版: FEB 27 2019
4.
A A Nanofluidic Osmotic Power Generator Demonstrated in Polymer Gel Electrolytes with Substantially Enhanced Performance
作者: Yeh, Li-Hsien,*Zih-Ying Huang, Yi-Cheng Liu, Ming-Jay Deng,Tzung-Han Chou, Hsing-Chiao Ou Yang, Tansir Ahamad, Saad M. Alshehrif and Kevin C.-W. Wu等.
Journal of Materials Chemistry A 卷冊: 7 頁數: 26791–26796 出版: Dec 21 2019